The internet loves adorable kitty cats and memes, right? Well, we can add Nintendo's first mobile title Miitomo to that list as well, for the time being. The company's first mobile offering is currently trending in top 10 on Twitter with over 135K tweets about the game. Sadly over on Facebook the story isn't exactly the same, as of publication time Miitomo is not trending. However, for those who doubted Nintendo's presence carrying over into the mobile space, this just shows that there is an appetite for Nintendo content on smartphones.
The dream #miitomo pic.twitter.com/fGuxw3K2rM

— Sunny Jo (@joooocat) April 1, 2016
Miitomo is the first free-to-play mobile game from the company long known for Mario and single handedly reviving the video games industry in the 1980s, among other accomplishments.  For Nintendo Miitomo represents a shift away from their traditional release model of tying their exclusive games to proprietary hardware to more open mobile platforms like Apple's iOS and Google's Android operating systems.
Think of Miitomo of as a cross between an advanced Mii character creator from the 3DS / Wii U / Wii and a closed social network similar to their Miiverse website. Players create a custom avatar, or allow the app to auto-generate one based off a recent selfie and then connect their social media accounts to find friends who have also created Miis in Miitomo. From there players can answer questions for coins, view their friends answers and play a pachinko type mini game for exclusive prizes.
In the initial 24 hours I've had Miitomo installed on my phone I've had a lot of fun reading my friend's responses to Miitomo's predefined questions. As a platform the response system has allowed my friends to answer these questions in quite some unexpected ways. The pachinko minigame is quite basic but it is fun to watch your friend's avatar fall down and collect some exclusive loot for your wardrobe. Two things really stand out to me after using the app for several hours – each Mii is voiced, this is quite surprising given the fact that up until now the Miis have only made little grunts and groans and never used words. It is also surprising, and refreshing, that Nintendo – for the time being – has not instituted a profanity filter. This should ensure that adults will also feel welcome on this new social app, as well as thousands of teenagers who will fill their greetings and question responses with profanity.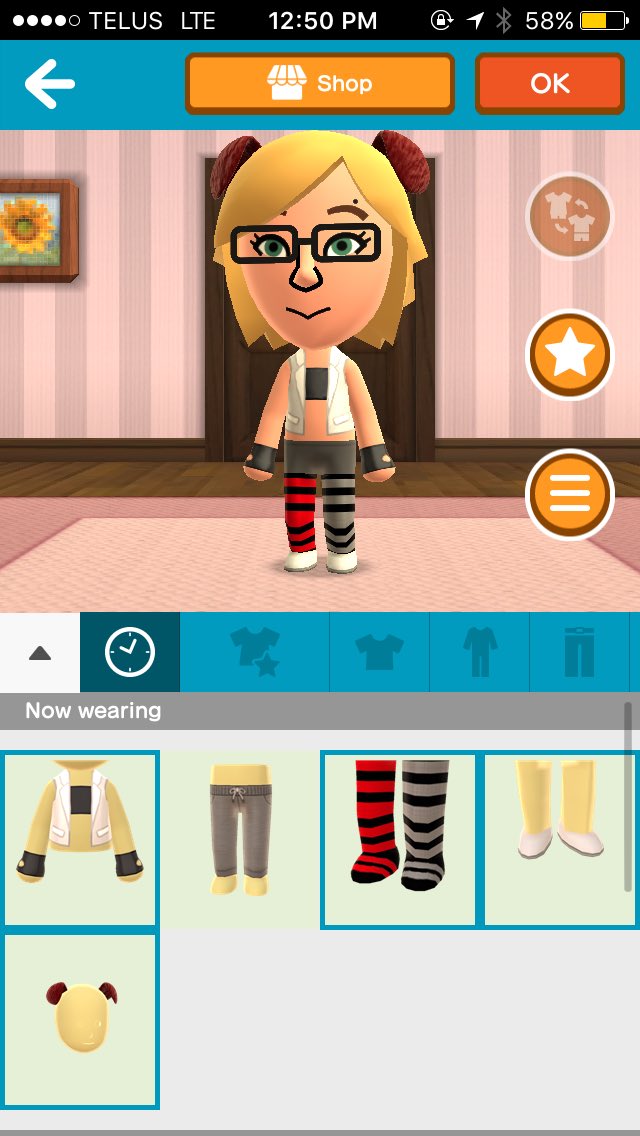 Possibly the biggest draw for Miitomo is its' robust inventory for purchasable outfit items for your character. Everything from striped socks, tank tops, formal shoes, tees and dog ears are available but your character is presented with a limited selection of items that roll-over every 24 hours. If you see an item you really really have to buy, be prepared to answer questions and read your friends for some coins or purchase coins for real world currency. In my first few hours I've seen responses giving between 15 – 24 coins per answer and in general the items I've wanted to purchase have been between 1.000 coins and 1,500 coins. Meaning each item is worth aprox 60 answers. Although additional coins can be earned by completing daily missions.
Speaking of missions – Nintendo has provided incentives for Miitomo users who also purchase games / use Nintendo's own devices in the form of Gold and Platinum coins. Platinum coins are exclusive to the Miitomo app itself and provide you the ability to unlock game tickets, special tickets and exclusive outfits. Gold coins are earned slowly (30 per week) by signing onto the e-shop on 3DS or Wii-U or by purchasing digital software from the E-Shop. Current gold coin offers include a Miitomo exclusive The Legend of Zelda Twilight Princess Picross game for 3DS, several Virtual Console releases and discounts on last year's surprise hit Splatoon.
Here is some of available missions (Full list available here):
Want to know what some folks are saying on Twitter about Miitomo? Here's a sample:
By the power of Nintendo I summon thee! #Miitomo pic.twitter.com/rNS3Z1OBIl

— Rowan Artifex (@RowanArtifex) April 1, 2016
#Miitomo #MiitomoStyle
I ship us https://t.co/w4dXREgMbO pic.twitter.com/kwN6ERxJAI

— diofucker1995 (@SpookyGiorno) April 1, 2016
Somebody take #Miitomo away from me. pic.twitter.com/sQ7B0RxDhc

— Jinti @ FWA (@MadeOfEyebrows) April 1, 2016
If you enjoy content like this, you can always find more on our Facebook and Twitter pages!
Leave a comment